Michael Rock's 5-Year Solar Panel Report Card
Roughly once a year we check in with Fun107's Michael Rock to sew how his solar panels are performing. Here is what he had to say after 5-years of being installed with Isaksen Solar. 
Michael Rock's 5-Year Solar Panels For Home Review
It's fun to see how much money I'm saving, but it's also satisfying to see how our solar panels are saving trees and carbon dioxide emissions.
This month marks 5 years with our solar panels.  The most basic question I always get asked is whether there is any difference with the electricity in my house.  Not at all.  The only difference is the number on my Eversource bill, which I'm not upset about.
Are Solar Panels Worth It For The Rock Family? 
Since we launched our solar panels in November of 2018, the savings on our bill have been astounding.  We have now saved over $17,000 on our power bill alone.  When you add in the cash tax credits we got from both the state and the federal government, we have officially made more money with the solar panels than it cost us to put them in.  From now on, all the money we save with these solar panels is pure profit.  One day, we'll own our solar panels outright and we'll be living with free power in our home.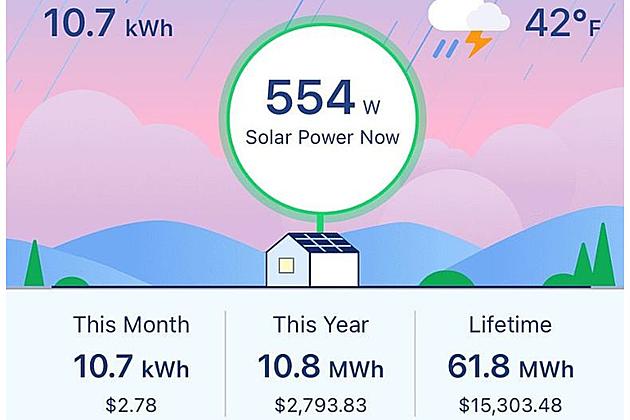 Should I Get Solar Panels?  Financial Benefits
When we bought the solar panels from Isaksen Solar, one of the top Massachusetts solar companies, our monthly payment was locked in.  Our payment hasn't changed one penny since that day (and it was MUCH lower than what we had been paying Eversource).  Quick question.  Have the Eversource and National Grid rates gone up at all in the past 5 years?  I can't say because I haven't been paying attention to that.  Their rates don't apply to me.  Doesn't that sound nice?  Financial freedom from the big power companies.
Should I Get Solar Panels? Environmental Benefits
Our solar panels from Isaksen are green in more than one way.  Sure, they save you money (which I LOVE), but they are also "green" in the environmental sense of the word.
By switching to solar, the environmental benefit from our home has done the equivalent of planting 729 trees on our lot.  We've saved 96,498 pounds of carbon dioxide emissions (that is roughly the equivalent of driving 10 gas-powered cars for an entire year.)
Would I Recommend Solar to Everybody?
No.  Not every house is a perfect match for solar.  If your rooftop doesn't get a lot of sun, or your tree line isn't pushed back far enough away from your home, solar might not be worth it for you.
However, what I'd recommend to EVERYONE is to at least call Isaksen Solar in Fall River.  They are the experts and should be in any search for "solar companies near me". Let them check out your home and calculate your solar panels cost.  I give you my word that they will be honest with you about what you can expect to produce with solar panels.  They will not sugarcoat it.  They will give you a real-world estimate.  As a matter of fact, in my experience, Isaksen Solar under-promised and over-delivered.  Which makes me happy I went with a local solar company instead of a national brand. We're seeing much more power production than Isaksen told us we would.